Z's story
Dev and I had been acquaintances for about a year, crossing paths at birthday parties, New Years and Burning Man. I thought he was a cool guy, but the thought just hadn't crossed my mind about dating! Then our friend Cherry organized a trip to Zion National Park and I got to know him better (and I admit I couldn't stop looking at his biceps - he was pretty buff!). Over dinner the last night, all of us girls started grilling Dev on what he was looking for in a girlfriend, and I had to keep my eyes down, and not blush because I really loved everything he said -- someone who would go camping with him, who embraced their cultural upbringing, someone bright and energetic, who cared about doing good in the world. I kept my cool...and a few days after we got back, he asked me out :) Fast forward through a solar eclipse, camping trips all over the Bay Area (well "glamping" according to Dev), and travels to Mexico, Japan and SE Asia...I have found a man who brings out the adventurer in me, a foodie who taught me how to cook daal, and who always makes my heart feel at home.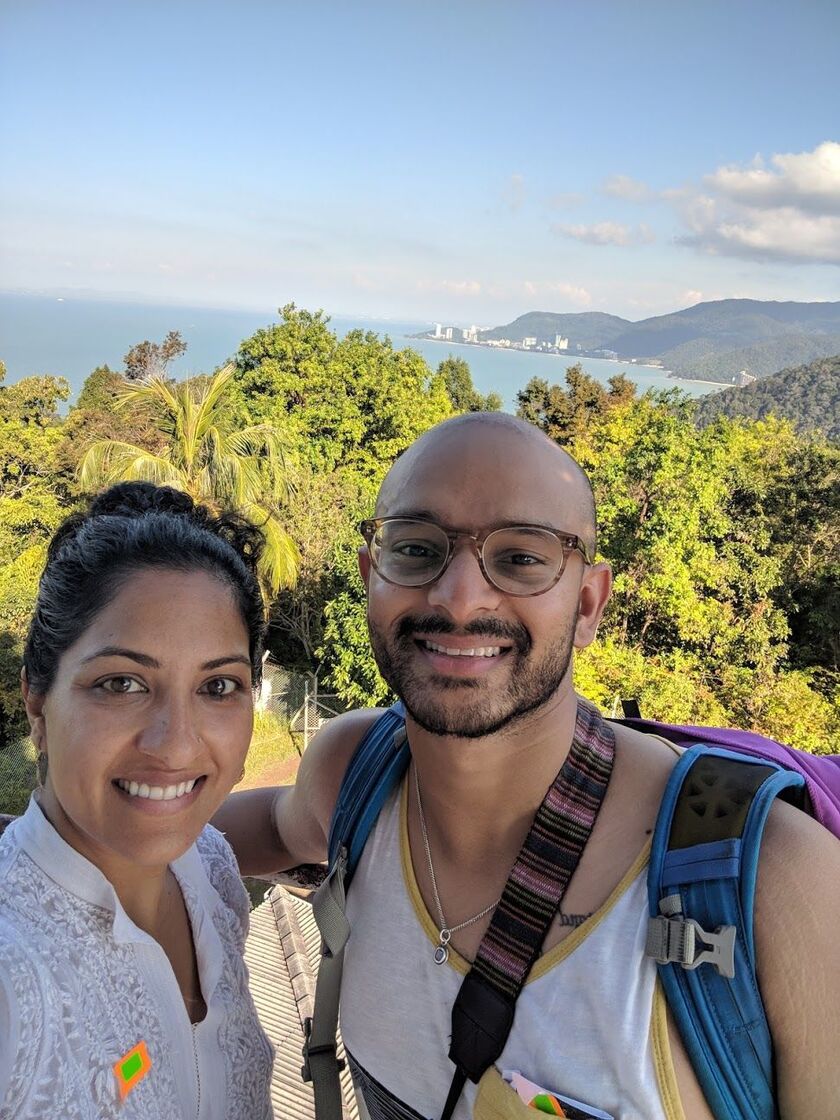 Dev's Story
Z and I met through some close friends at a New Year's party that Z was hosting in the mission. To be honest, I was floored by her beauty but also had a hunch that she'd be a handful, haha. The next year or so went by and we crossed paths at Burning Man, mutual friend's events, and the airport strike at SFO. A few months later she hosted a gala for fundraising for immigrant families which raised almost $30k and I was suddenly floored by this woman.
We started crossing paths more often in smaller group settings like sketch comedy shows, sound healing sessions, and then finally at Zion. Our good friend, Cherry, initiated a weekend trip to the national park in Utah which she ascribed me to help organize. Z was part of the group of seven there and I started to really get to know her and feeling a connection. Our first day of hiking was beautiful as we hiked into the red canyons, emerald lakes, and fresh desert lavenders. I was enamored with the setting. At one point we hiked to a vantage point overlooking the valley and we all gasped. A moment passed and everyone kept walking except for Z and myself. We both stood there speechless while taking in the view.
It was in that moment that I felt my breathe deepen as we stood there. I thought to myself how sweet it would be to hold her hand. But, I didn't… because then I'd be a creep! Haha. The weekend continued on, we all returned home, and I couldn't keep her off my mind. I remember being at work thinking to myself, Damn I need to take her out! The next weekend we hung out at a local street fair and I asked her out. She was joyfully shocked, but said maybe. I felt good about it and she later said yes.
We went out for a couple months before Z wanted to break things off. I was certainly disappointed but kept her close as I could tell she was going through a tough period in her life and I still wanted her friendship. She later joined me on a camping trip to Oregon to catch the solar eclipse with some good friends. It was on the eve of the eclipse where our romance rekindled while walking around the campground enjoying the night sky.
Many outdoor trips, home-cooked meals, and flights together later – I'm now blessed to call Z the love of my life. Bringing her joy while opening my heart to hers is the most rewarding adventure.